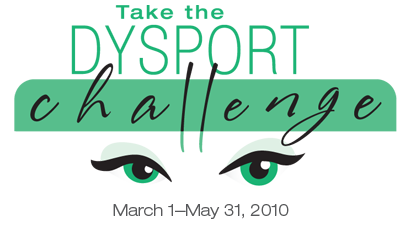 Dysport®, the leading (aka only) United States competitor of BOTOX Cosmetic® (aka Botox), has extended the Dysport® Challenge another month. Now, through May 31, 2010, Dysport® is offering cash back to you for trying Dysport®. Details were originally revealed in my previous post, Take the Dysport® Challenge San Francisco Bay Area. Whether you are considering your first wrinkle reduction procedure, or are a Botox disciple, this is how it works:
The Dysport® Challenge™
In my Walnut Creek Cosmetic Plastic Surgery Office, during April and May of 2010, you can get $75 off any Dysport® treatment. Plus, another $75 off your second treatment whether you love it or leave it.
Love It
If you love Dysport® you can get another $75 off your next Dysport® treatment.
Leave It
If do not love Dysport® you can get another $75 off your next BOTOX Cosmetic® treatment.
For all the details visit DysportUSA or click the logo at the top of this article.
Dysport San Francisco or Botox San Francisco?
The next Botox/Dysport Day in the office is Wednesday, May 19, 2010.
Call (925) 943-6353 now to reserve your spot.
Previous Post
Next Post