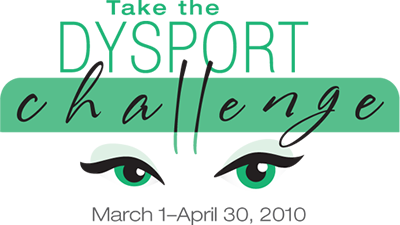 In case you haven't heard, BOTOX Cosmetic® (aka Botox) has a competitor: Dysport®. BOTOX Cosmetic® was the first to market here in the United States, and has enjoyed a monopoly, until now. Dysport® was first to market in Europe, and has now made it across the pond.
FDA Approved for Facial Wrinkle Reduction
Dysport® received FDA approval last year. It is very similar to BOTOX Cosmetic® in terms of onset of action and duration. While they are not equivalent, they are very similar. Both block unwanted muscle motion, and both reduce stubborn frown lines.
Dysport® came to market at a slightly lower price, but BOTOX Cosmetic® countered with customer loyalty, and discount coupons. The Dysport® people are once again trying to shake the status quo with the Dysport® Challenge™.
The Dysport® Challenge™
In my Walnut Creek Plastic Surgery Office, during March and April of 2010, you can get $75 off any Dysport® treatment. Plus another $75 off your second treatment whether you love it or leave it.
Love It
If you love Dysport® you can get another $75 off your next Dysport® treatment.
Leave It
If do not love Dysport® you can get another $75 off your next BOTOX Cosmetic® treatment.
For all the details visit DysportUSA or click the logo at the top of this article.
Botox/Dysport Day
The next Botox/Dysport Day in the office is Wednesday, March 17, 2010. Happy Saint Partick's Day.
If this is too soon, the April Botox/Dysport Day is April 21, 2010.
Call (925) 943-6353 to reserve your spot.
Previous Post
Next Post