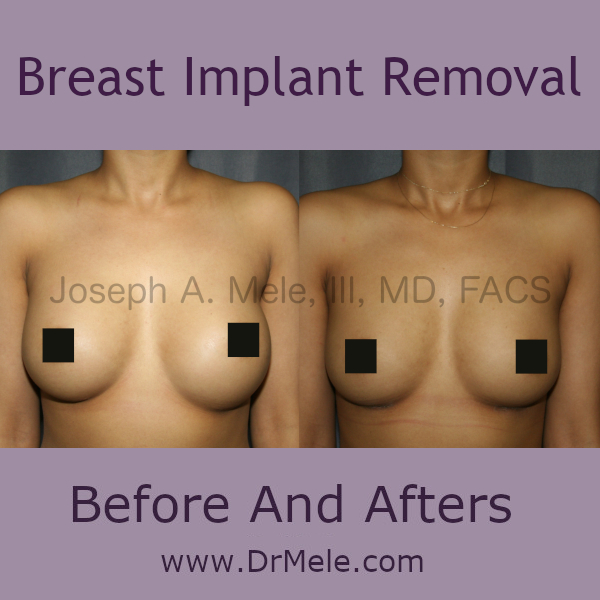 Breast Implant Removal Before and After Pictures of actual patients are included in today's video to illustrate what is possible. More before and afters are available on DrMele.com .
Breast Implant Removal is performed for about 1% of all Breast Augmentation patients. On today's Plastic Surgery Video we discuss the reasons for breast implant removal. The available options are illustrated with multiple case studies of patients with specific desires and circumstances.
Breast Implant Removal Video
Today's Breast Implant Removal Video Segment narrates several Breast Implant Removal Before and After Pictures. The patients discussed have been evaluated by a Board Certified Plastic Surgeon. How the procedure will be performed for you may vary, depending on your particulars.
To Lift Or Not To Lift
A Breast Lift may be recommended when the breast skin is expected to droop excessively after Breast Implant Removal. This is more likely to occur if the breasts are saggy before implant removal and with larger implants. Removing larger implants takes away more volume and support when compared to smaller breast implants. Young patients with smaller breast implants, a shorter history of implantation and excellent skin elasticity are most likely to have an aesthetic result after breast implant removal.
Local vs. General Anesthesia
The choice of anesthesia is often determined by several variables. Implant removal for patients with soft breasts with saline implants without the need for a breast lift are the best candidates for local anesthesia. The use of local anesthesia during surgery also requires a cooperative patient who is not anxious about being awake for the procedure. Encapsulated, hard, silicone implants take more time and effort to remove and are better scheduled with general anesthesia for patient comfort. Capsulotomies are more likely in this situation and are also performed under general anesthesia. Additionally, leaking silicone implants, especially pre-1994 breast implants, also require additional time and effort to remove them safely; therefore, general anesthesia is the best option.
Textured Breast Implants
With the recent withdrawal of Allergan's BioCell® textured breast implants from the world-wide market, my office has received many calls about whether the implants need to be removed. Currently, the FDA recommends monitoring and not removing the implants. The recommendation weighs the small risk of developing BIA-ALCL against the small risk of surgical removal of the breast implants.
Breast Implant Removal Consultations
If you have questions about Breast Implant Removal, call my office at (925) 943-6353 and schedule a private consultation appointment. If I did not perform your original Breast Augmentation, it would be very helpful if you can obtain information about your Breast Implants prior to our first meeting. An operative report or a device ID card provide specifics about your implants such as size, shape, type and date of implantation. These variables will help me determine the safest and most predictable way to proceed with your breast implant removal surgery.
Previous Post
Next Post