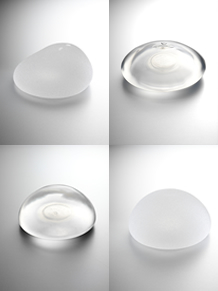 Silicone gel filled breast implants were introduced to the US in 1962, and after 50 years of use, they remain among the most scrutinized medical devices currently available in the US. In June, 2011, the FDA released their Update on the Safety of Silicone Gel-Filled Breast Implants.
A Brief History of Breast Implants
1962 – Silicone gel-filled breast implants were introduced in the US. Prior to 1962, breast augmentation was performed with fat grafting or polyvinyl sponges.
1976 – US Congress passes the 1976 Medical Device Amendments to the Federal Food, Drug, and Cosmetic Act. Breast implants are classified as moderate risk (Class II) devices and required to comply with general controls and performance standards. The FDA reviews new breast implants through the 510(k) premarket notification process.
1980's – Concerns are raised about associations between breast implants, particularly the silicone gel filled breast implants, and serious health issues such as breast cancer and systemic connective tissue disorders such as lupus, scleroderma and rheumatoid arthritis. The FDA reclassifies breast implants into Class III, higher-risk products needing premarket approval (PMA), and called for manufacturers to provide data demonstrating the devices were safe and effective.
1992 – The FDA decides that the manufacturers had not adequately addressed public concerns about certain complications. Rather than selecting the devices with a poor record, the FDA removes all silicone gel filled breast implants from the market, but only for elective cosmetic breast augmentation. The FDA continues to allow manufacturers to provide silicone gel filled implants for reconstruction after mastectomy, correction of congenital deformities, replacement of existing implants and for breast augmentation performed in conjunction with a breast lift. The Breast Implant Adjunct Studies were created, so that data could be collected about device performance and safety in these groups of women. In order to make breast implants again available for elective cosmetic breast augmentation, the FDA requires manufacturers to submit premarket approval applications that contained data on safety and effectiveness – like a new product. Europe follows the lead, but removes restrictions after 6 months, after reviewing the available literature and finding no links to serious systemic health issues.
1993 – The next generation of breast implants (Allergan Style 410 and Mentor Contour Profile Gel), textured, anatomic, highly cohesive (nearly form stable), silicone gel filled breast implants are complete, tested, and ready for submission for FDA studies in the United States and Europe … and Europe takes the lead.
1999 – The Institute of Medicine (IOM) releases a comprehensive report of the published literature and ongoing studies on breast implants, entitled Safety of Silicone Breast Implants. The study concludes that there is no evidence that silicone breast implants cause systemic health effects, such as cancer or autoimmune disease. Local complications (infection, bleeding, pain, deflation, capsular contracture, additional surgery) remain the primary safety issue with silicone breast implants.
2006 – The FDA approves Allergan's Natrelle Silicone Gel Filled Breast Implants and Mentor's MemoryGel Silicone Gel Filled Breast Implants. The FDA based its approvals on the manufacturers' Core Studies. These clinical PMA studies followed hundreds of women with silicone gel filled breast implants for 4 years (Allergan) or 3 years (Mentor). The FDA determines that silicone filled breast implants are safe and effective and that the benefits and risks of breast implants were sufficiently well understood for women to make informed decisions about their use. As conditions of approval, the FDA requires both manufacturers to conduct six post-approval studies to investigate the long-term performance and safety of their silicone gel filled breast implants. From the FDA's site these studies are:

Core Post-Approval Studies (Core Studies) – To assess long-term clinical performance of breast implants in women that enrolled in studies to support premarket approval applications. These studies were designed to follow women for 10 years after initial implantation.
Large Post-Approval Studies (Large Studies) – To assess long-term outcomes and identify rare adverse events by enrolling more than 40,000 silicone gel-filled breast implant patients and following them for 10-years.
Device Failure Studies (Failure Studies) – To further characterize the modes and causes of failure of explanted devices over a 10-year period.
Focus Group Studies – To improve the format and content of the patient labeling.
Annual Physician Informed Decision Survey (Informed Decision Study) – To monitor the process of how patient labeling is distributed to women considering silicone gel-filled breast implants.
Adjunct Studies – To provide performance and safety information about silicone gel-filled breast implants provided to U.S. women from 1992-2006, prior to approval, when implants could only be used for reconstruction and replacement of existing implants.

2011 – The FDA releases the Update on the Safety of Silicone Gel-Filled Breast Implants. The conclusion: breast implants, while not perfect, remain safe and effective. The most common problems associated with breast implants remain: capsular contracture, reoperation and implant removal (with or without replacement). Other frequent complications include: implant rupture, wrinkling, asymmetry, scarring, pain, and infection, among others. These observations are consistent with the local complications and adverse outcomes that were known at the time of approval, and there remains no apparent association between silicone gel filled breast implants and connective tissue disease, breast cancer, or reproductive problems.
What's Next in US Breast Implants
A "new" breast implant has been available in Europe since 1993, and despite many years of experience, it continues to await US approval by the FDA. These from stable breast implants also are not perfect; however, they have a lower local complication rate than any breast implant currently available on the US market. San Francisco Bay Area Breast Augmentation patients and Plastic Surgeons alike, want to know, when will "gummi-bear" breast implants finally be approved? The date of approval remains anybody's guess.
Previous Post
Next Post