Areolar Reduction
,
Breast Asymmetry
,
Breast Augmentation
,
Breast Augmentation Lift
,
Breast Implant Revision Surgery
,
Breast Lift (Mastopexy)
,
Breast Reduction
,
Breast Reduction (Men)
,
Breast Reduction (Women)
,
Capsular Contracture
,
Home
,
Inverted Nipples
,
Nipple Reduction
To celebrate the debut of the new San Francisco Breast dot com (SanFranciscoBreast.com), a site dedicated to cosmetic breast surgery for the San Francisco Bay Area, I will be dedicating my appearance on Monday's Body Beautiful on KRON4 to the breast. Breast augmentation, breast lifts, breast reductions, breast implant revisions, everything related to enhancing the breasts is open for discussion.
Body Beautiful is broadcast live at 11:00 AM on KRON4, so tune in and phone in with your breast questions. Whether you have had breast surgery, or are considering it, the show will cover a variety of topics. For a preview of what's in store visit SanFranciscoBreast.com.
What's new in Breast Enhancement Surgery?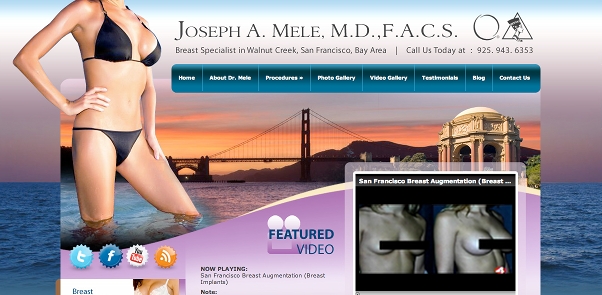 The new web site is a comprehensive and authoritative review of the latest techniques in aesthetic breast surgery. Located in the San Francisco East Bay Area city of Walnut Creek, Plastic Surgeon, Joseph Mele, has lent his years of experience, and breast expertise, to this free patient education resource. The site is illustrated with graphics, videos and before and after pictures, and there is more to come. The list of topics covered is long and includes:
Breast Augmentation

Breast Augmentation Lift

Breast Augmentation Revision

Breast Lift

Breast Reduction

Gynecomastia Reduction – Breast Reduction for Men

Specialty Breast Procedures – Correction of Other Breast Abnormalities
I look forward to hearing from you on Monday. If you will not be able to watch KRON4 at 11 AM on Monday, December 13, 2010, and you have a question you want answered, you can send your question via the contact form to the left. I will send you a personal response, and perhaps your question will be answered live during Body Beautiful.
Previous Post
Next Post