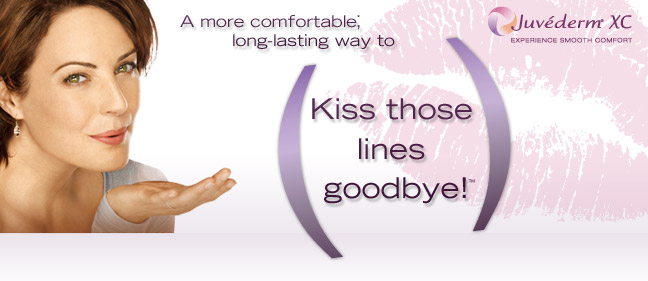 Allergan, the manufacture of Juvéderm XC and Vivité, is giving away a free Vivite Defining Lip Plumper to patients receiving a Juvederm XC injectable filler treatment.

Juvederm is now available as Juvederm XC with Lidocaine added for comfort. All qualifying patients receiving Juvederm between now and September 30, 2010, are eligible to receive a free Vivite Defining Lip Plumper (a $45 value).

If you are not familiar with Juvederm, it is an HA filler similar to Restylane and Perlane. This year, all three were reformulated with Lidocaine (a local anesthetic). This significantly decreases injection site discomfort compared to the HA products without Lidocaine. HA is a filler used to attenuate the appearance of moderate to deep facial wrinkles. The most frequently treated areas are the nasolabial and marionette lines, which can give the appearance of parenthesis around the mouth. (Thus the clever logo at the top of this article.) Juvederm is also used for lip augmentation, to add volume to lips.

If you have wanted to try Juvederm, or you are ready for a refresher, now is a great time to schedule a consultation appointment. Just give us a call at (925) 943-6353. Juvederm treatments must be completed by September 30, 2010 to qualify for the Vivite Defining Lip Plumper give away.

Previous Post
Next Post