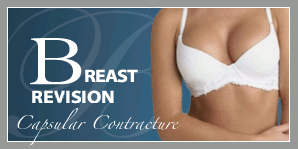 Capsular Contracture occurs when the Breast Implant's pocket is too tight. When a Breast Implant is placed, the body forms a pocket to hold the implant in place. Without this pocket, the Breast Implants would not stay in a predictable position. When the pocket becomes too tight, it can move the breast implant or make the breast feel firm. Breast Augmentation Revision is used when capsular contracture causes visible changes in the Breast Augmentation.
Breast Augmentation Revision – Capsular Contracture Before and After Pictures
Breast Augmentation Revision for Capsular Contracture
The Breast Augmentation Revision before and after pictures above show an example of the correction of capsular contracture. The picture on the left shows Grade III capsular contracture. As the capsule contracts, it squeezes the Breast Implant causing an apparent reduction in size of the breast implant. In this case, the lower pole of the breast implant is being squeezed more than the upper pole. The result is superior Breast Implant Malposition.
Correction of Capsular Contracture
Capsular Contracture is treated with either release of the capsule (capsulotomy) or removal of the capsule (capsulectomy). A Capsulotomy allows the capsule to expand, resulting in a softer breast augmentation. A capsulotomy can also be performed selectively in cases of malposition, to move the breast implant back into the proper position. Capsulotomy works best for thin, tight capsules.
A Capsulectomy is used when the capsule is thick. By completely removing the pocket around the implant, a new pocket is allowed to form. The Breast Implants may also be changed to help prevent recurrence. Capsulectomy is also used for breast implant removal when a silicone breast implant leaks. This allows for removal of all the contained silicone gel.
Breast Augmentation Revision Results
In the before and after pictures above, the right side shows the results. The right breast implant was lowered and is much softer. The upper pole of the breasts are now even, which increases the number of necklines that can be worn. The nipples and inframammary folds are also even, improving the appearance out of clothing too.
Breast Augmentation Revision Consultation
If you are considering breast augmentation revision, call (925) 943-6353 to schedule your personal consultation appointment.
Previous Post
Next Post